TALL TAPERED CONTAINERS
Suitable for the transportation of fresh tobacco leaves, pastry, as well as
textiles, and clothes. A They can be stacked one inside the other (when empty) and,
by rotating them by 180°, one on top of the other (when full). The bulk of 4 full containers corresponds to that of 8 empty ones.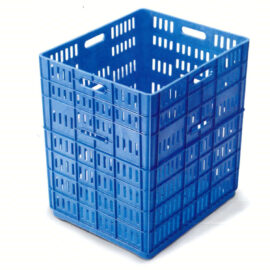 | | |
| --- | --- |
| Length - Μήκος | 640 |
| Width - Πλάτος | 540 |
| height- Ύψος (mm) | 673 |